Chinese Junk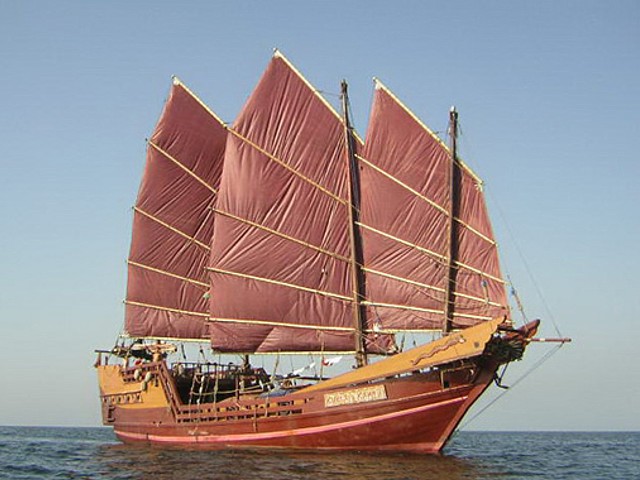 Rebuilt Year: 2003
Current Price:
Location: Carribean
Hull Material: Wood
Engine/Fuel Type: Diesel
clixpix
clixpix
| | | | |
| --- | --- | --- | --- |
| | | | |
clixpix
clixpix
* Traditional Four Mast Sailing Junk
* LOA: 28.35 meters or 93 feet
* BEAM: 6.5 meters or 21.3 feet
* DRAFT: 2.7 meters or 8.85 feet
* DISPLACEMENT: 160 tonnes
* Rebuilt in 2003/2003 ~ Indonesian Pinisi Hull with Junk Rigging
* Keel made of Ironwood ~ Hull made of Teak
* Four masts (10m ~ 16m ~ 16m ~ 10m)
* Average Cruising Speed Under Sail 4 ~ 5 knots
* Marinised Mitsubishi diesel engine (220 HP)
* Diesel Fuel Tank Capacity ~ 6,200 Litres
* Fresh Water Tank Capacity ~ 6,400 Litres
* Large and comfortable Lounge and large galley
* Six cabins for sleeping twelve people
* Currently under a German Flag

The sailing 'Pinisi' hull form in many ways resembles a cross between two traditional American sailing vessel types, the Pinky Schooner and the Tancook Whaler, even though the 'Pinisi' hull type pre-dates those Western hull forms by centuries... In other words, in its original form the 'Pinisi' was a double ended hull type, having sharply raked stem and stern post. There was not a centerline rudder however, as with the American craft. Instead the local Indonesian craft in the past most often made use of twin rudders, one on each aft quarter.